For train journeys lasting longer than a day, luxury sleeping cars were introduced in the late 19th century. They were operated by specialized companies such as Wagons-Lits and later Mitropa. The first decades the 'mobile hotels' were only available to the wealthy. Posters advertising overnight travel featured sleeping beauties and lots of dark blue.
After World War II affordable options became available for mass tourism, but some of the romance disappeared. By the year 2000 the number of overnight services declined sharply due to the rise of high-speed trains and cheap airline tickets. Because of climate change, night trains are currently experiencing a renaissance. Will the same be true for posters?
Wagons-Lits
Since 1865 the Pullman Palace Car Company provided luxury sleeping cars on the extensive American railroads. When the Belgian banker's son Georges Nagelmackers traveled through the US by Pullman train, he saw a gap in the European market. In 1876 Nagelmackers founded his Compagnie Internationale des Wagons-Lits (literally: international sleeping car company) , simply called Wagons-Lits in short. He concluded agreements with many railway companies to run sleeping cars in existing trains. Soon the network stretched from Madrid to Bucharest.
The oldest Wagons-Lits poster from 1880 still shows a short sleeping car with three fixed wheel axles. A few years later bogies (trucks) were introduced, allowing for longer carriages that didn't derail in curves, at the same time providing better ride quality. The new sleeping cars ran so smoothly that one could shave at a speed of 80 km/h, as one passenger described. In 1883 Wagons-Lits also started exclusive luxury trains without any regular carriages. Only first-class tickets with surcharge were available, exclusively affordable for the elite. The Orient Express was the first of these luxury trains, soon followed by the Mediterranée Express, Nord Express and Rivièra Express.
In the years after First World War I, Wagons-Lits gradually replaced its old teak carriages with new steel ones. They had Art Deco interiors and still only first class compartments. In 1929, because of economic conditions, the company also introduced second-class sleeping cars with slightly less space. The class difference was rather small, judging from an anonymous poster. It shows a beautifully upholstered two-person compartment — with its own washbasin — in both day and night setting, when the couch was 'converted' into two beds by the conductor.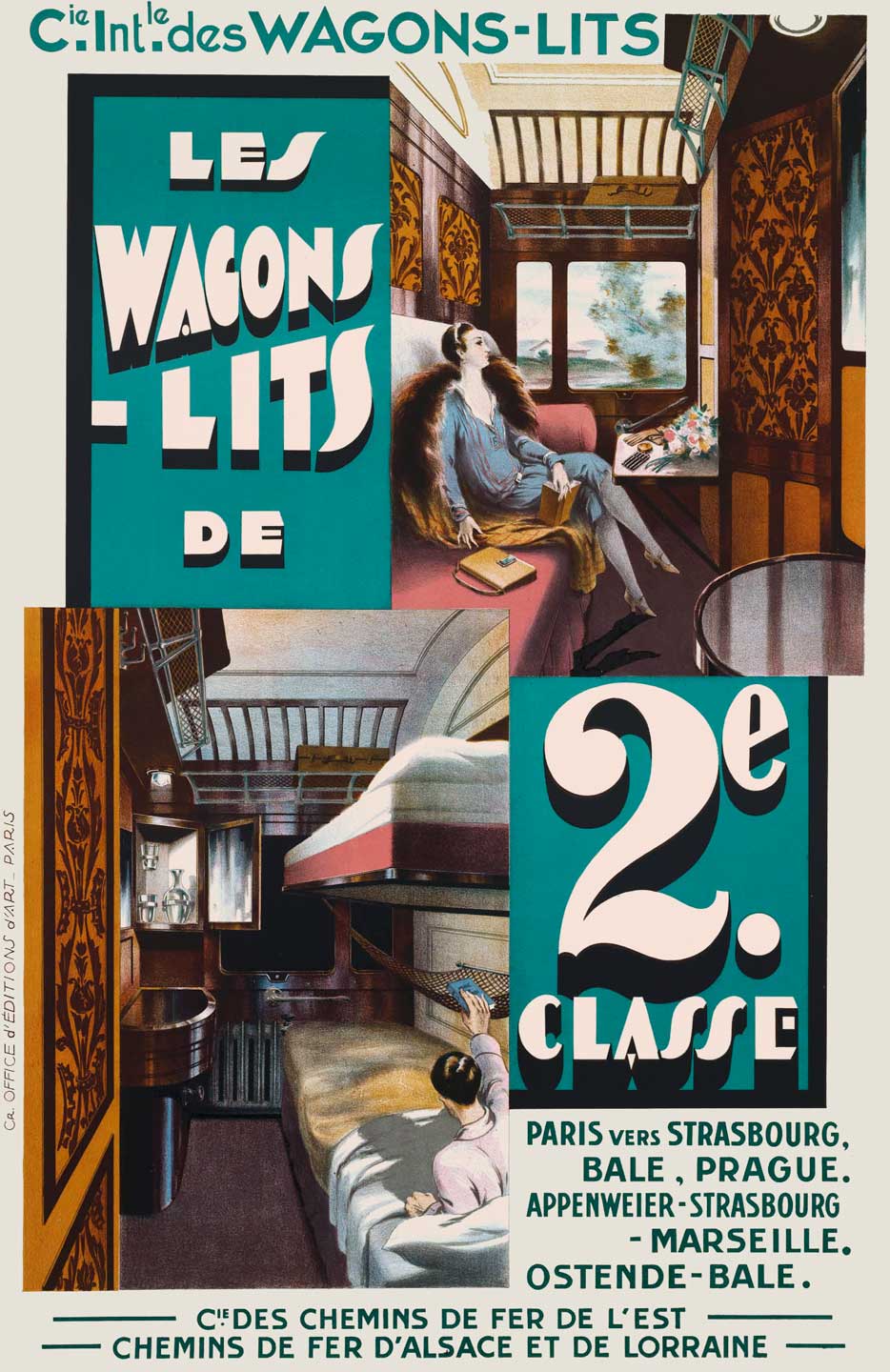 Much more modern was the poster by the influential French designer A.M. Cassandre that was issued only a year later. Instead of the inside or exterior of a sleeping car he depicted the deep blue night, interrupted by a red signal light along the track. Cassandre's son Henri Mouron later wrote: 'En Wagon-Lits de 2e Classe (1930), Cassandre's last railroad poster and an example of a design inspired by the theme of the urban landscape, is unquestionably persuasive. The breathtakingly simple device of a red light glowing in the foggy darkness of a railroad siding is perfectly consistent with our poetically charged experience of looking out the window of a speeding night express.' This poster was released in several versions, with and without the large '2' of second class.
Night Scotsman
The popular name Flying Scotsman also became the official name of the express between London and Edinburgh in 1924. The London and North Eastern Railway (LNER) train service on the East Coast Main Line departed every morning at 10 and took approximately 8 hours. But there was also an overnight train, called Night Scotsman, departing around 11.30 in the evening.
The night train had no fewer than 14 carriages, half of which were first and third class sleeping cars. Competitor London Midland & Scottish Railway (LMS) also had an overnight train to Scotland, via the West Coast Main Line. Both services were promoted jointly on one of three posters that appeared in the Quad Royal (large landscape) format in the early 1930s.
Alexandre Alexeïeff, who had fled from Russia to Paris, was not only a designer and illustrator, but also a pioneer of animation films. On his posters for the LNER he created an almost surrealistic world. For the Night Scotsman Alexeïeff painted a floating locomotive under a full moon, reflected in a lake.
The fairytale scene is executed in transparent tones reminiscent of his later animation films, such as Sleeping Beauty and Die Nacht auf dem Kahlen Berge with music by Modest Mussorgsky. Another version of the poster with the text 'To London by sleeper' promoted the train in the opposite direction.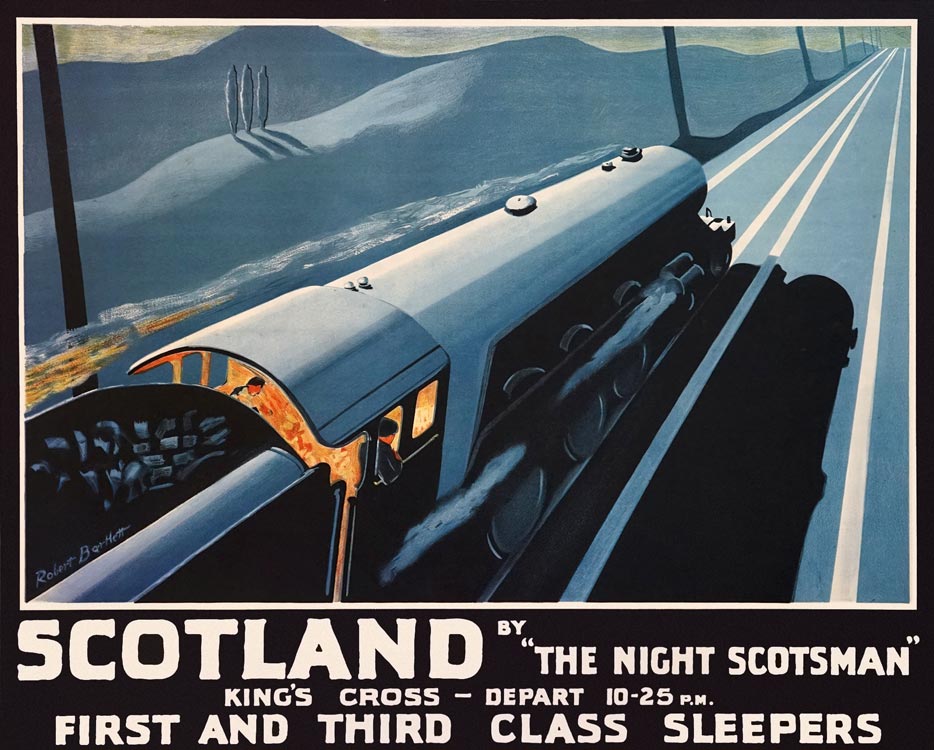 Although less dreamlike, Robert Bartlett (dates unknown) also managed to make a successful poster for the Night Scotsman in 1932. A steam locomotive runs through a moonlit nightscape, while the driver and fireman on the footplate stoke the fire for the travelers to arrive in Scotland the next morning.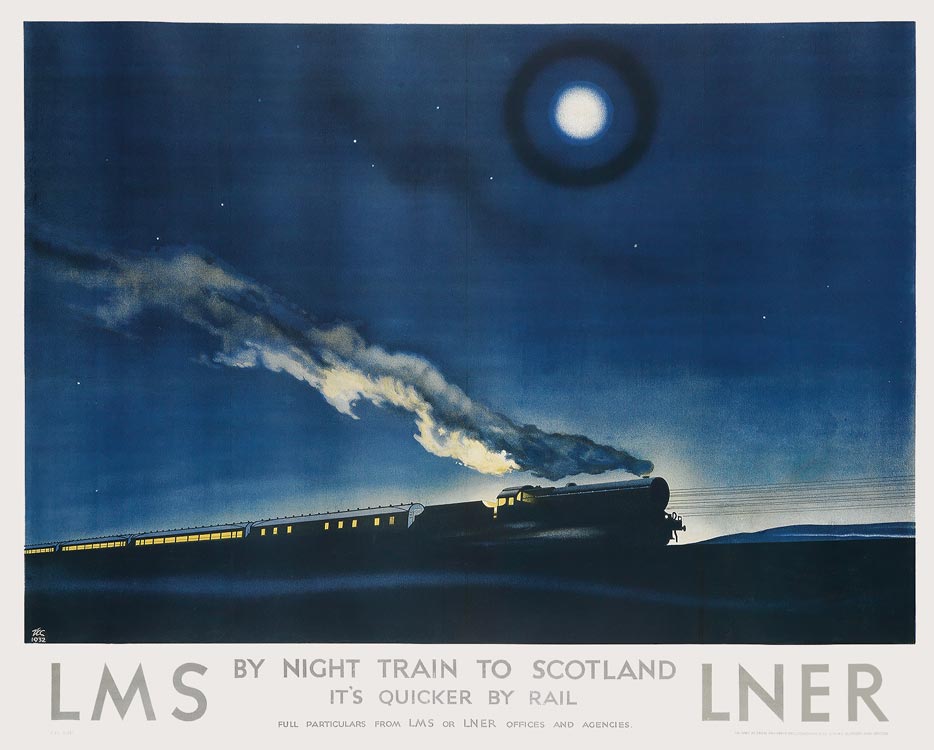 Philip Zec created the joint poster By Night Train to Scotland for the LMS and LNER. The train speeds ahead under a glowing moon, the plume of smoke lit from below by the locomotive's fire. This nocturnal scene is an exception within Zec's oeuvre. He was best known for his political cartoons and propaganda posters during World War II.
Wagons-Lits 'Touriste'
After the damage caused by World War II was repaired, European society became more egalitarian. More and more 'ordinary' people wanted to go on holiday abroad. The era of luxury trains with exclusively Wagons-Lits carriages was over. Sleeping and dining cars still continued to run in regular international trains. Wagons-Lits had to adapt and introduced a tourist class.
The new class had three-bed compartments instead of the usual one or two. In addition to the new Type U (Universal) sleeping cars the company introduced a futuristic inox (stainless steel) design, named Type P after its designer M. Pillepich. Over two levels these contained 20 single compartments with washbasins. The dark blue sleeping cars of pre-war design still remained dominant, though.
From 1950 onwards Wagons-Lits issued many posters to win back customers and to reach new target groups. Typical for its time is a purple poster by Guy Georget (1911-1992), which resembles the cover of a detective pocket book. Georget had been artistic director at a publishing house. From the late 1940s he designed many posters for the Spanish tourism office, Philips, French railways and especially Air France.
On Georget's purple poster the French wording 'Wagons-Lits' seems like a general advertisement for the company of the same name, but the poster was specifically about sleeping cars, as is evident from the English version featuring the text 'Travel by Sleeping Car'. The oval windows in the doors of the depicted sleeping car reveal that it was a specimen of the luxury LX type with ten compartments.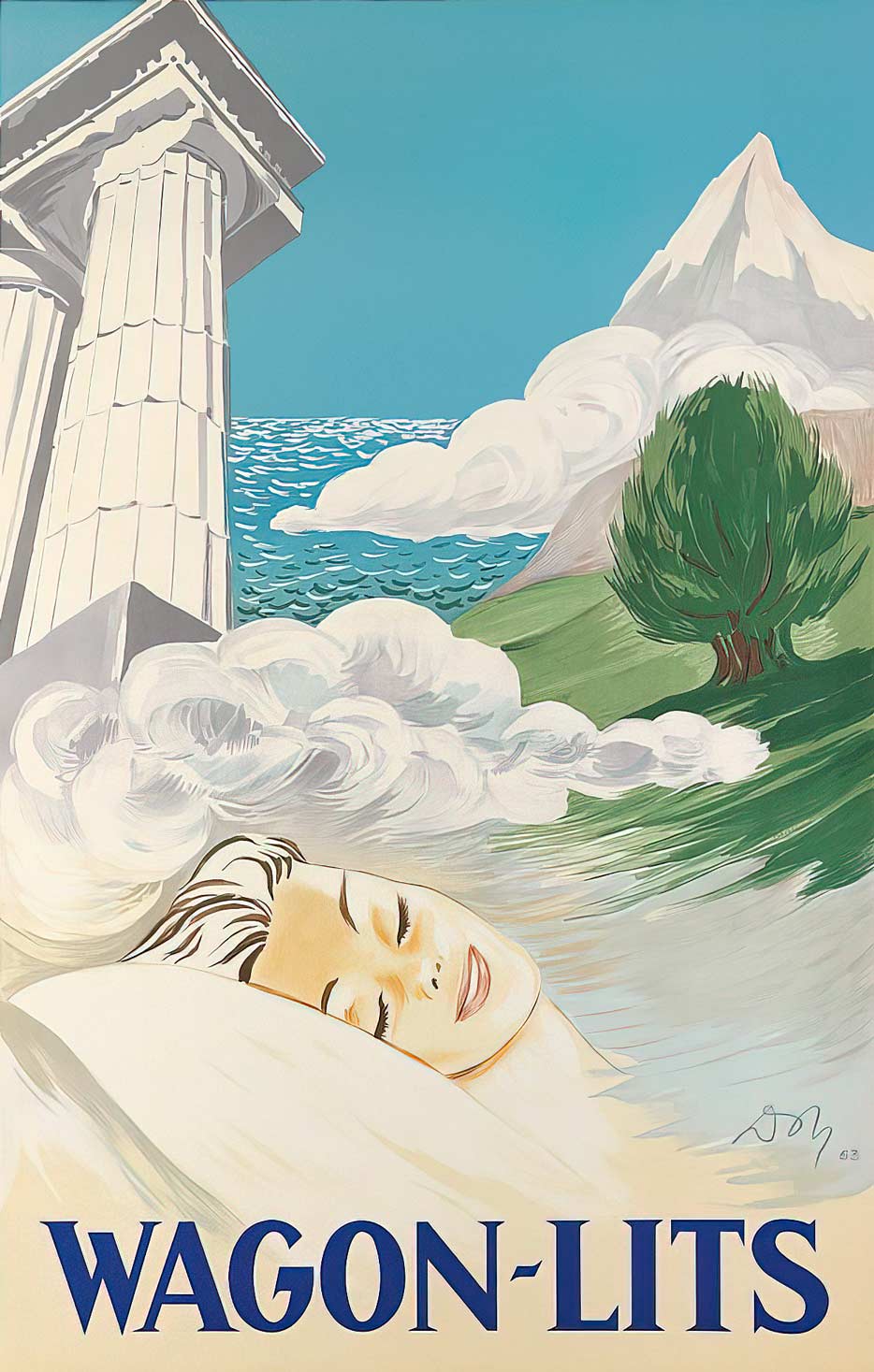 Designer Jean Don (1900-1985) was born in Bucharest. Between the two World Wars he had mainly created posters for casinos in Deauville, Cannes and La Baule and for balls and galas in Paris. A bit of frivolity marked his post-war designs for Wagons-Lits too, for example a juggling waiter on a dining car poster.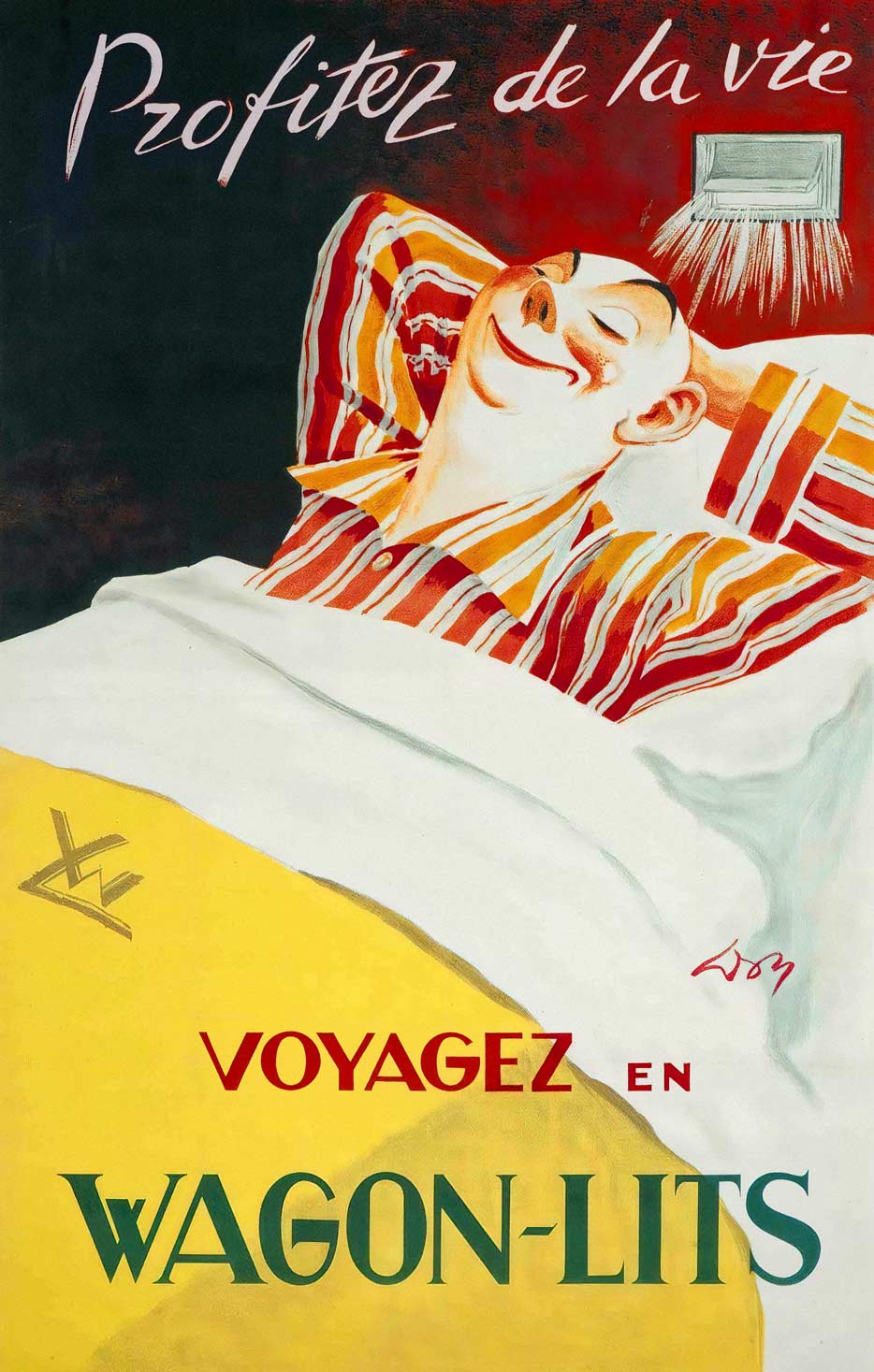 In 1953 Don created two posters for sleeping cars. Remarkably, he represented a man in pyjamas as a mere caricature, but not the sleeping woman on the 'sister poster'. She seems to be dreaming of a breezy awakening along the Mediterranean. To the 'male' poster the text 'Profitez de la vie' (enjoy life) was added.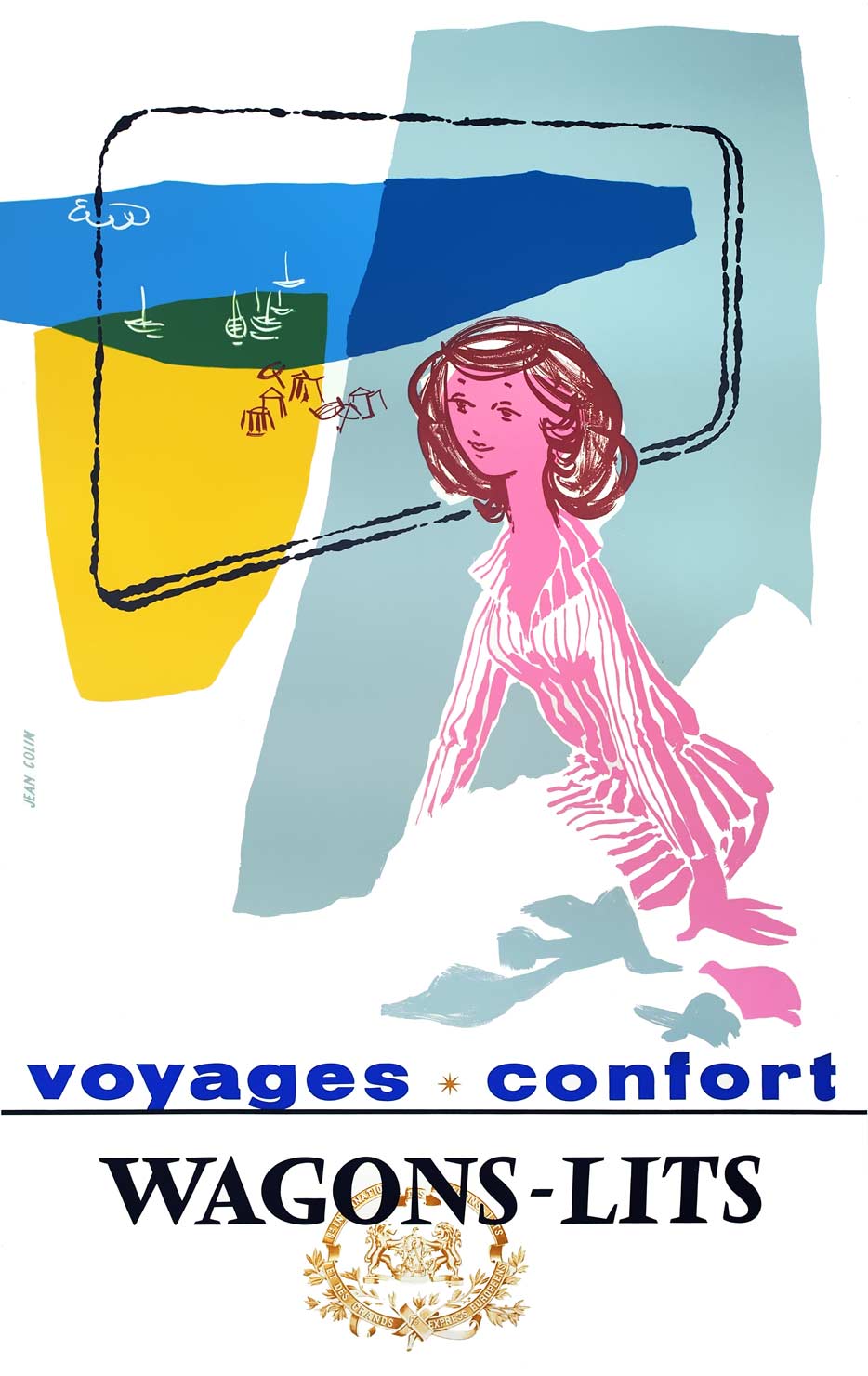 The poster that Jean Colin (1912-1982) created a few years later resembles Jean Don's, except that the woman is awake and looking outside. Also the drawing style is much more sketchy. Colin was one of the founders of the Alliance Graphique Internationale (AGI) and designed about 300 posters, for Shell and Pernod for example. His charming style appealed to a wide audience. In 1959 he won a gold medal for the best French poster.
The background of Bill Wirts (1917-1962?) is unknown, but until around 1950 he was working in the United States as an illustrator of western books and family magazines. He then settled in France and specialized in the visual combination of women and transport. He illustrated posters and calendars for Vespa and Duomatic bikes and designed ads for Renault Dauphine and Simca Vedette cars. In the late 1950s he created a Wagons-Lits poster of a couple in a sleeping compartment.
Trans Euro Night (TEN)
In 1971 nine European railway companies formed a pool (joint stock) of sleeping cars, called Trans Euro Night (TEN). All existing sleeping cars were added, including those of Wagons-Lits and the Deutsche Service-Gesellschaft (DSG), the West German successor to Mitropa. Due to the changing market these once renowned companies were no longer able to afford innovations. From then on railway companies ordered new carriages themselves, while the existing Wagons-Lits and DSG sleeping cars were leased or taken over. All were given a dark blue color and fitted with TEN logos.
From then on the sleeping car companies focused on their core activity: providing services to travelers in sleeping and dining cars. They continued to supply the staff, but no longer the carriages.
The name Trans Euro Night (called Trans Euro Nacht or Trans Euro Nuit in other languages) was reminiscent of the Trans Europ Express (TEE), but it was not actually related to this network of fast and luxurious day trains. The high quality of the TEE would never be matched by TEN. Trans Euro Night was advertised jointly — in several languages — as well as by country. Recurring elements were pillows and dark blue backgrounds, combined with slogans that mainly emphasized time savings. Around 1980 a poster design with a large rising sun by Vic Callaert, who worked for the Belgian railways, was used internationally in different languages.
'Traveling and dreaming in the sleeping car', read another TEN poster. In 1975 a columnist in a Dutch advertising trade journal mentioned this as an example of a slogan that was not lived up to. He had experienced the most sleepless night of his life: 'In that small, cramped room you are actually lying in a one-person horror cinema with a Surround effect… Those are the things you have to think about when you see two happily sleeping people on a poster. Truth in advertising?'
Decline and Renaissance
Sleeping car services declined at the end of the 20th century due to growing air traffic and the success of high-speed trains. In 1993 remaining continental services were grouped under the name EuroNight. Another part was continued by CityNightLine, a subsidiary of Deutsche Bahn (DB). NS Internationaal started the OverNightExpress between Amsterdam and Milan in 2000, which only ran for a year and a half. In 2009 the EuroNight 'Orient-Express' between Strasbourg and Vienna, a last remnant of the once illustrious Orient Express, came to an end. Most EuroNight services in Western Europe were terminated, but they continued to exist in Central and Eastern Europe. The German railways discontinued CityNightLine in 2016. However, Nightjet from the Austrian railways (ÖBB) is still operating in Austria, Germany and neighboring countries.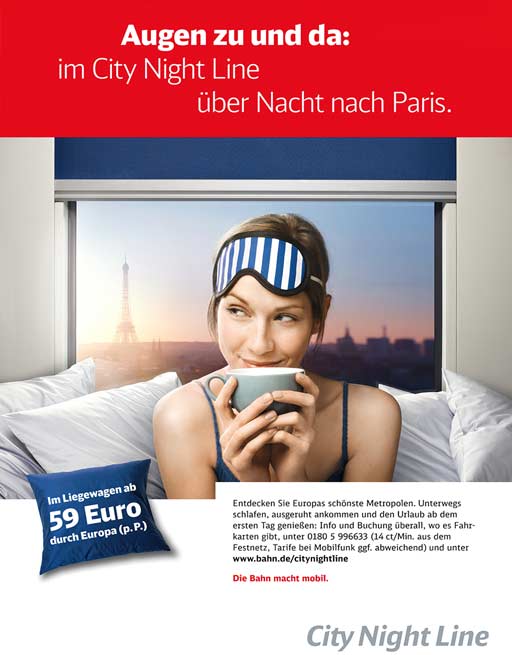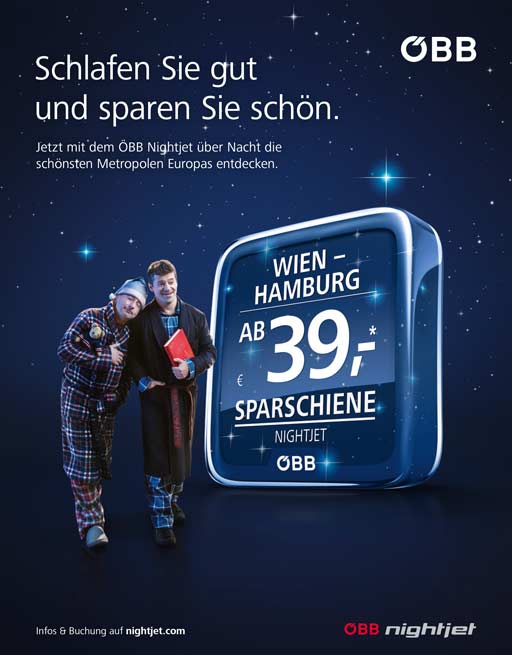 Because of sustainability and climate protection, a revaluation of overnight trains is getting on track. Nightjet is running from Amsterdam and Brussels to Vienna again, while Snälltåget directly connects Sweden to Berlin. New initiatives are also emerging, such as European Sleeper, which will connect Brussels and Amsterdam with Berlin and Prague. The Ostende Vienne Orient Experience is planning to provide night trains from Belgium to Austria and Italy. The French Midnight Trains will focus on the luxury segment.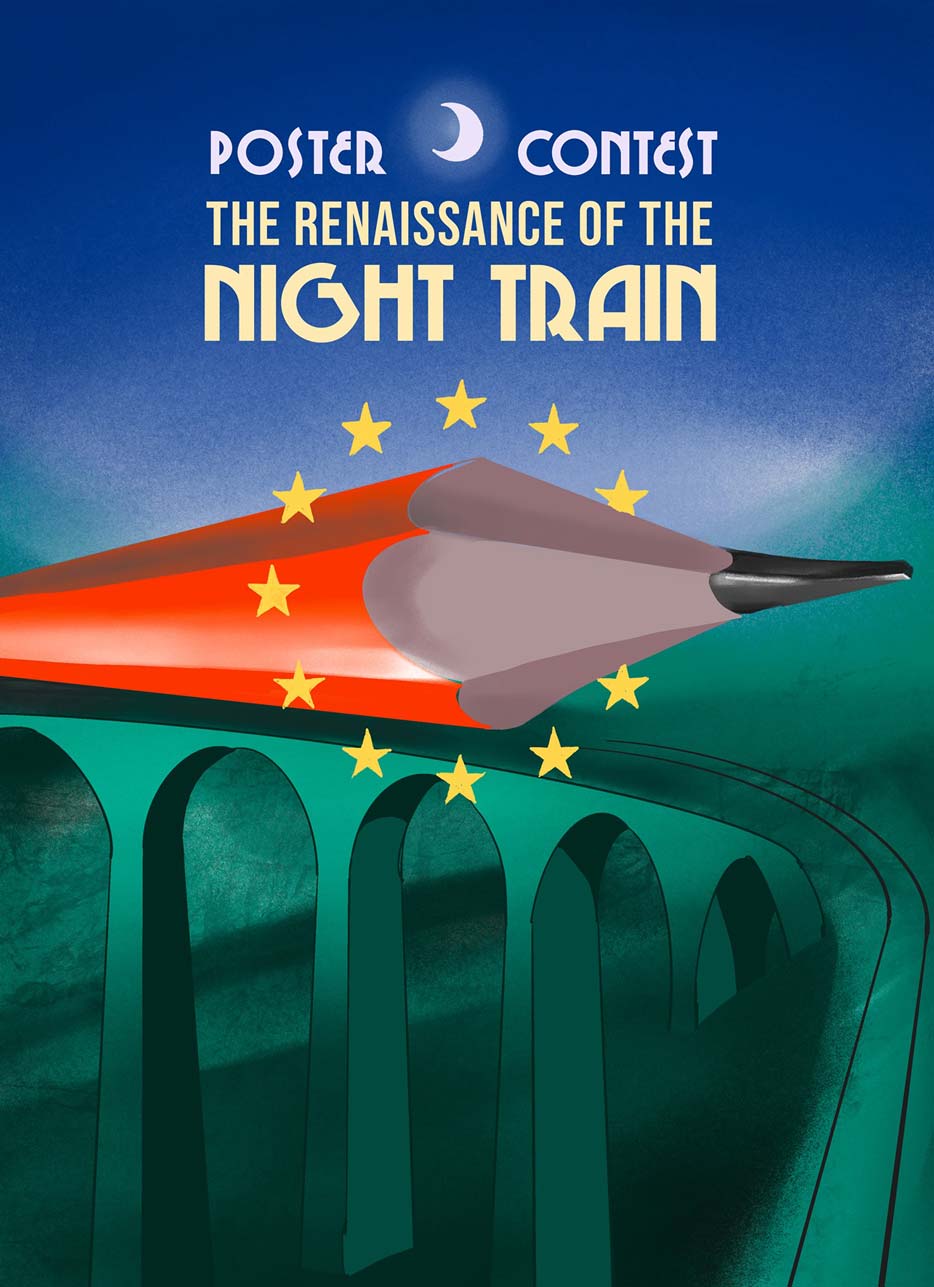 The few recent posters from CityNightLine and Nightjet are rather prosaic. To change this a design contest is being held during the European Year of Rail. The contest is organized by Back on Track, a Eruopean collective promoting cross-border train traffic. Motto of the poster competition is 'The Renaissance of the Night Train'. Submitted designs cannot be photographs and must demonstrate the benefits of overnight trains. RETOURS will supply one of the judges. Prizes include an InterRail pass and night train tickets.